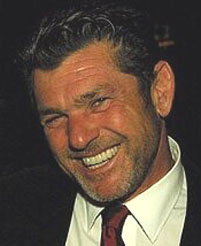 Quick post, unrelated to
The New Yorker,
just to get it out of my system. This man—
Jann
Wenner
, the publisher of
Rolling Stone
—is an appalling dork.
I was at the newsstand to pick up a copy of
Print
—
Emdashes
's day job—and, instead, something made me take the
fortieth-anniversary RS
to the counter. It was the shiny silver cover, I think, with the sticker advertising interviews with Bob Dylan, Norman Mailer, Tom Wolfe, Mick Jagger—interesting people I'm slightly too young to comprehend fully.
Wenner's
lead interview with Bob Dylan—a Q&A, reprinted line for line—is a master stroke of shoddy, sappy journalism. It serves as a forum for the publishing icon, whom
Salon
calls "the
star-fucker
who traded up," to 1) coo over and scold Dylan, 2) speak nearly as much as him, and 3) induce the singer to speak about
Wenner's
contribution to the culture.
An excerpt:
Do you think it's gloomy on the horizon?
In what sense do you mean?
Bob, come on.
No, you come on. In what sense do you mean that? If you're talking about in a political sense...
In a general political, spiritual, historical sense. You're talking about the end of times on this record, you've got a very gloomy vision of the world, you're saying, "I'm facing the end of my life and looking at all this..."
Aren't we all always doing that?
No, some people are trying to avoid it. But I'm trying to interview you, and you're not being very helpful with this.
Jann
, have I ever been helpful?
What can I do to get you to get you to take this seriously?
I'm taking it seriously.
You're not.
Of course I am. You're the one who's here to be celebrated. Forty years...forty years with a magazine that obviously now has intellectual recognition.
[Gulp.—Ed.]
Did you ever think that would happen when you started?
I was taking it seriously.
Look how far you've come. You're the one to be interviewed. I want to know just as much from you as you want to know from me.
* * *
It goes on for another two pages. He makes Dylan look like a mumbling old man, collecting pop tins on the beach. Seriously—do they not have editors? The
Kwantlen
College Beacon could have done better.
On the positive side, we now have something to say whenever anyone is giving us a hard time. Try it with me:
"

Jann

..."
[Pause, purse lips, hold the 'n.']
"Have I ever been helpful?"
(Extra:
Idolator
pans the
anniversary
issue.)